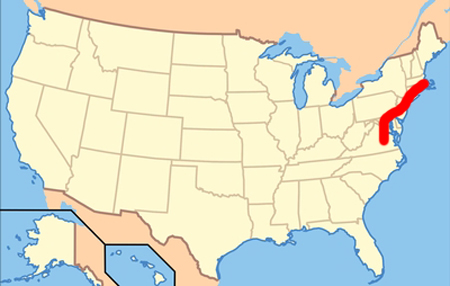 by Ken Lopez
Founder/CEO
A2L Consulting
We East Coasters have a love-hate relationship with snow, and the snow moving into the Northeast today may be one for the record books - particularly around Boston. It will dominate the news for days - and it probably should.
An incredibly large number of people will be impacted by this particular storm. Under or next to that red line on the map where the storm is forecast to hit, you'll find roughly 20% of the U.S. population living on roughly 3% of the country's land, half of the hedge funds, one third of the headquarters of Fortune 500 firms and — in the states under the red line, about 35% of the country's and, hard as it may be to believe, about 25% of the world's lawyers!
A blizzard disrupts our lives. It can feel tedious, it creates confusion, and it generates a lot of hard work — sort of like a trial. Not all trials are blizzard-like, but some surely are. Here are 21 ways some trials are like a blizzard and how to avoid white-out conditions in your courtroom.
The dialogue is often boring. Similar to the neighborhood small talk that surrounds a snow storm, many trials are boring for judges and juries. I know federal judges who frequently fall asleep, and I have seen plenty of jurors do the same. However, I have always asserted that trial counsel have a duty to entertain a jury. See, Lights! Camera! Action! Verdict! A Trial Team's Responsibility to Visually Entertain and 12 Things Every Mock Juror Ever Has Said - Watch Anytime


Too much, too fast. Judges are pushing for faster and faster trials and many lawyers are failing to use presentation techniques that can speed up a trial dramatically and save time. You don't want your judge and jury to feel like they can't see where you and they are going together. See, 5 Ways to Apply Active Teaching Methods for Better Persuasion and Will Being Folksy and Low-Tech Help You Win a Case?


Poor planning is dangerous. If there is a lot at stake, one needs to test one's approach in advance. Governments spend years planning their responses to a blizzard, and if your case warrants it, you should spend a considerable amount of time testing themes, testing witnesses, testing litigation graphics and testing arguments in a mock trial setting. See, 12 Astute Tips for Meaningful Mock Trials and 10 Suggestions for Conducting Mock Bench Trial Consulting Exercises.


There are bad drivers everywhere. Like the ubiquitous Toyota Camry inexplicably on the roads in a snow storm, you have to be careful to avoid those who pose a threat during trial preparation. See, No Advice is Better Than Bad Advice in Litigation




Travel and everything else require massive planning. I often quote one of my favorite trial lawyer clients who said, "I never sleep better than when I am at trial, as I know how well prepared I am." He had a habit of being successful. If you need to get to the trial site early, you should. Last minute is very last century. See, The 13 Biggest Reasons to Avoid Last-Minute Trial Preparation


It's hard to see. If your projector and your trial technology are not well planned for, like in a blizzard, you end up with a washed out image on screen where colors are hard to make out. See, 24 Mistakes That Make For a DeMONSTERative Evidence Nightmare


Practice is essential. You wouldn't want a snowplow driver to make their first run during a blizzard any more than you would want to articulate an opening statement for the first time during trial. See, 3 Ways to Force Yourself to Practice Your Trial Presentation and Practice, Say Jury Consultants, is Why Movie Lawyers Perform So Well


Going it alone is a bad idea. We are in an era where litigators from top firms try very few cases. In-house counsel understand this dilemma. Now, more than ever, litigation consultants are mandatory for a trial with more than a few million dollars at stake. See, 9 Things In-House Counsel Say About Outside Litigation Counsel and Accepting Litigation Consulting is the New Hurdle for Litigators


IT support is critical. I think many of us would sooner go without water at home during a blizzard than go without Internet. Trial is not dissimilar. You need your technology to work. Trial technicians can be an incredible asset to make sure things go smoothly in the warroom and at trial. It is an expensive and avoidable nightmare when something goes wrong during a mock, the night before trial, or, worst of all, during trial. See, 12 Ways to Avoid a Trial Technology Superbowl-style Courtroom Blackout


Anticipate the worst and prepare for it. Whether it is a motion in limine going the wrong way, an expert being disqualified, an exhibit being excluded, good trial teams discuss the worst that can happen and prepare for it just as good governments do before blizzard conditions exist. See, The 14 Most Preventable Trial Preparation Mistakes


Know your environment. If you fail to properly map out your courtroom well in advance of trial, you'll end up feeling as lost as a snowplow driver without a GPS. Your technology won't serve the very people you designed it for. See, 21 Ingenious Ways to Research Your Judge




Pick and prepare the right experts. There are experts who help pick expert witnesses. I find that a lot of litigators fail to rely on this resource and regret it later. Once you have an expert, they must be prepared. Just as you would not want to see an everyday weather geek opine sophomorically about storm conditions, you must work on your experts so they can work for you. Otherwise, you'll be shoveling more than snow. See, Witness Preparation: Hit or Myth? and 7 Smart Ways for Expert Witnesses to Give Better Testimony.


Know how much science your audience can take. Many fact-finders will glaze over with the presentation of too much science, so a balance must be struck between good trial presentation and making a good record. Most of us want to hear Jim Cantore explain the story simply, not go into the detailed science. See, 5 Valuable (and Free) Complex or Science-Focused Litigation Resources and Teaching Science to Juries


Tell a story. Everyone comes out of a blizzard with a good story, but a good story poorly told is not really that good. Trial is the same way. Stories engage people, but you have to do it right. See, Free Webinar - Watch Anytime - Storytelling as a Persuasion Tool and Storytelling for Litigators E-Book 3rd Ed.


Make sure your story is compelling. Nobody likes someone who tells a long chronological story and bores everyone to death. There are good rules of thumb for telling a story that people care about. See, Don't Be Just Another Timeline Trial Lawyer and 5 Essential Elements of Storytelling and Persuasion and 14 Differences Between a Theme and a Story in Litigation




Don't under-budget. In-house counsel or your client want you to win, but you need to ask for the budget you need to win. Similarly, in-house counsel need to do a better job of arming trial teams for battle by making sure they feel confident in asking for budget. After all, what happens to a mayor who does not budget enough for the blizzard and a city breaks down? See, In-House Counsel Should Make Outside Litigation Counsel Feel Safe


Use the right visuals. Just because you use a PowerPoint at trial does not mean you are more persuasive. In fact, you could hurt your persuasiviness if you use the wrong approach to visuals. Think about all the work that is going to go into reporting on this blizzard and watch the visuals that are used. The science behind what visuals people need to see to be entertained and persuaded is vastly more complex than most people know. See, 10 Things Litigators Can Learn From Newscasters and 6 Studies That Support Litigation Graphics in Courtroom Presentations and Good-Looking Graphic Design ≠ Good-Working Visual Persuasion


Make sure your words compliment your visuals. Just as you can quickly tell the difference between a national newscast and one from a small town, good and well-prepared presenters are obvious to everyone. See, 12 Ways to SUCCESSFULLY Combine Oral and Visual Presentations and 10 Things Litigators Can Learn From Newscasters


Don't overdo it. Knowing when the pressures of trial are too much is just as critical as knowing when not to shovel that large driveway. See, 10 Signs the Pressure is Getting to You and What to Do About It


Make sure you have the right audience. If you are saying the wrong things to the wrong people, no one will get behind your message. Unlike an elected politician or a newscaster, litigators have some choice about who their audience is - make the most of that opportunity during voir dire. See, New and Free E-Book: The Voir Dire Handbook


At the appropriate time, and if it's right for you, a cocktail will probably help.
Other articles and resources related to trial preparation, thoughtful mock trial testing, persuasive litigation graphics and trial technology considerations from A2L Consulting: